Setting behind the famous Outer Banks of North Carolina is some of America's most fertile farm land. The original European settlers first discovered this back in the 1,500's. Ever since then Eastern North Carolina and the Inner Banks of North Carolina with its over 3,000 miles of coastline have been producing some of the best crops for people of the state and nation.
The rich soil and coastal environment are ideal for growing yellow onions. These high quality onions are grown extra sweet!
For decades now the Peed Family has been an integral part of this farming tradition. It started way back in 1914 with Great Grandfather O. J. Peed. He was a hard working man who cared about quality and taste in the food he produced. He paid close attention to the farm and to his family. And about the only thing that would get O.J. off the farm was if the doors to his Church were open.
The same dedication to quality and taste lives on today. It is driven by one simple question. Would I eat that onion? And you better believe the standard is set high with four generations of Peed family farmers.
The success of the Peed farming tradition and philosophy lead them to create Flatland Ag, Inc. This company is an extension of the family and enables them to meet the ever growing demand for their yellow onions. Major outlets such as Wal-Mart, Food Lion and Costco sell Flatland Ag, Inc. yellow onions.
Maintaining the tradition of quality and care all Flatland Ag, Inc. yellow onions are harvested with a two step mechanical method. The onions are first lifted and wind rowed from the soil. Then topped, harvested and loaded into trucks for packing. At the packing shed the onions are cured, graded and packaged in bags ranging from 10 pounds on up to 50 pounds. From planting to packaging everything is done on site to ensure the very peak of freshness when you buy.
Flatland Ag, Inc. generations of family grown produce and bringing you the very finest in sweet delicious yellow onions. Look for the Flatland Ag, Inc label and ask for it by name at your favorite grocery store.
Take a Look at Our Picture Gallery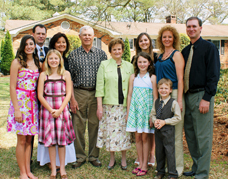 Come take a look at how freshness grows!
Flatland Ag has put together a gallery of photographs showing the growing and production process. Watch the onions grow and see how Flatland Ag produces some of the finest yellow onions around.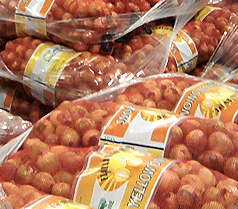 If you have any questions or comments, of if you would like to receive more information in regards to our onion production and distribution, please don't hesitate to contact us here at Flatland Ag, Inc." ~Jeff Peed
Our Latest Blog Posts
From Flatland Ag to you and your table.
We invite you to read the latest news from our farm, learn how to handle onions, try our delicious onion recipes and much more!